• Karma Spa •
Karma Spa definitely has the nicest website out of all of the business that I researched. The design is really clean and visually appealing. They use proper elements to compliment the design so that it flows perfectly from one section to the next.
Instead of sub-navigation the main navigation buttons are drop down menus so they maintain the simplicity of the single column design concept. They have a pop up promotion as soon as you enter the site asking for an email with is good for marketing as well.
I really like that they have links that flow naturally throughout the page instead of a direct sub-navigation in a two column design. This keeps the organic free flowing feel of the page intact. This is a website for a spa so everything about the experience should be relaxing, including the website.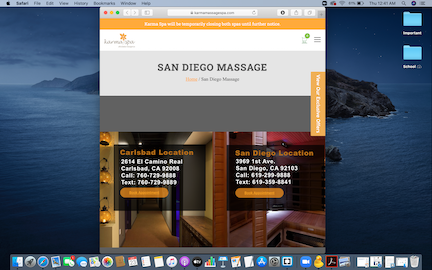 he website does use a responsive design. When you make the space smaller the navigation goes into a dropdown folder on the top of the page making it easy to navigate. The website features a pretty simple design only putting what is necessary on the homepage and linking additional info so the content is not too overwhelming on a smaller browser window. I Think that their website looks really good in both styles.