• Pash Skin Stuido •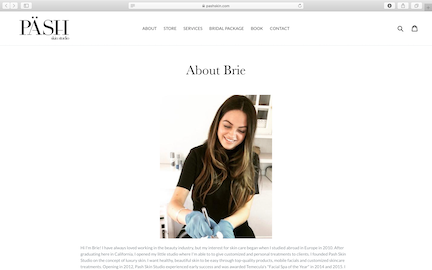 Pash Skin Skin Studios website features a very simple single column design. The style is very modern. The page is easy to read and navigate and is well organized.
Much like the like the service menu, it is very to the point. I can really appreciate the design concept used and I think that most readers would agree the site makes for a very pleasant user experience.
This is hands down the most user friendly sites of the businesses I researched.I like that she used her own photo to give it an authentic feel. I also really like the navigation on the bottom of the page as well. This makes it easy to move through the website and does not require a lot of scrolling. I think that keeping in simple has a lot of advantages when it comes to responsive design because there is less content to be seen on a smaller space.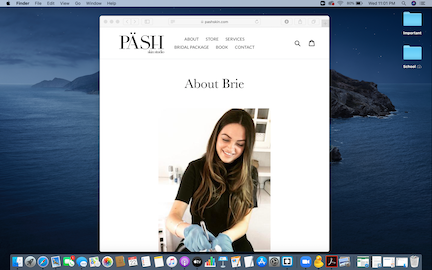 The website is responsive. As shown in the photo, as I changed the size of my browser window things like the navigation bar changed formatted so that the page still had a good flow. The page was able to be read and looked well organized and clean still.