Introduction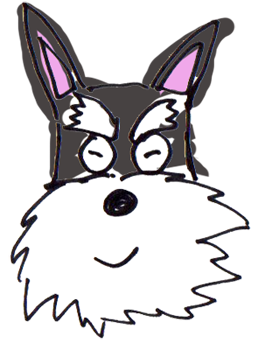 My name is Pritz. People think I'm a boy, but I am a girl with a mustache. I live with Mommy, Daddy, and a little sister MOMA. Moma and I are both miniature schnauzers. You can visit Mountain High Miniature Schinauzer to learn about mini schnauzers. This link is where I was born.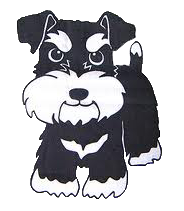 Moma came four years later from Miniature Schnauzer Rescue in Otay, and I am her boss. Moma has an attitude, but I try to be mature because I am the older one. We are totally different from each other. Here is a list of traits comparing us to each other.
Pritz
bossy
independent
sharing
patient
What I like to do
play
play
play
play
eat
What I don't like
big sounds
screaming kids
What I am good at
chasing balls
hiding
Moma
needy
possessive
skitish
obedient (usually)
What she likes to do
eat
eat
eat
eat
chasing little animals
What she doesn't like
stairs
big dogs
What she is good at
finding something eatable
killing squirrels
Now I would like to introduce our daily life. You can click "Morning" and "Afternoon" pages at the top or click times on the clock below.